Company fined following extensive fire at chemical site
Chemical company LMA Services Ltd has been sentenced for safety breaches after a fire which quickly took hold of buildings and storage areas at the site.
Leeds Magistrates' Court heard that on 30 June 2016, the fire started during a chemical dispensing operation in a Warehouse on Halifax Way, Pocklington Industrial Estate, Pocklington. Heptane, a highly flammable liquid, was being decanted from a bulk storage container into 4-litre metal cans. The operator dropped the can he was filling, exited the warehouse quickly and raised the alarm. He did not suffer any serious injury. The fire spread quickly and destroyed the warehouse, the adjacent warehouse and an external storage area between the two.
An investigation by the Health and Safety Executive (HSE) found that the process involved placing a bulk container of heptane onto racking at a height of about 1.5m. A table was then positioned beneath the bulk container onto which a small electrical weighing scale was positioned. Metal cans were placed onto the scale and an employee filled the cans by weight by manually operating a tap on the bulk container in the warehouse building.
A flammable vapour created during the process came into contact with an ignition source causing the vapour to ignite. HSE's investigation found that the most likely source of ignition was a spark from the electrical weighing scales.
LMA Services Ltd of Halifax Way, Pocklington Industrial Estate, Pocklington pleaded guilty to breaching Regulation 6 (3) of the Dangerous Substances and Explosive Atmospheres Regulations 2002. The company has been fined £14,000 and ordered to pay £2,377 in costs.
After the hearing, HSE inspector Dave Stewart commented: "The risks associated with the decanting operation were not fully understood by the company. There were potential ignition sources present within the area where a flammable vapour was likely to occur.
"This case highlights the importance of assessing risks associated with flammable atmospheres. Employers should ensure that adequate measures are taken to reduce the formation of flammable atmospheres so far as is reasonably practicable, and to ensure that only suitable electrical equipment is used in areas where a flammable atmosphere may be present."
For advice and guidance on safe flammable liquid storage, or to book a free site survey, contact Chemstore UK today on 0208 704 1807.
Case study: Storing Acetone
When professional nail product distributor, Pure Nails, was looking for a storage solution for safely storing Acetone within their factory before it was forwarded for onward distribution, they turned to Chemstore UK.
As Acetone is highly flammable it needed to be housed in a 90minute fire rated structure but it also needed to be easily accessible so orders could be fulfilled quickly and efficiently.
Following a site visit from Account Manager, Stephen Mansell, Chemstore UK proposed a bespoke Firevault unit which measured 14m long and, rather than housing standard pallet racking, incorporated front and back access for easy loading and unloading of boxes.
Stephen Mansell explains: "The Acetone remains within its manufactured sealed containers during the time that Pure Nails handles it so it is unlikely to be the source of a fire, but due to Acetone's highly flammable nature, it was essential to keep it protected from potential fires started elsewhere within the premises.  The bespoke Firevault was the perfect solution because it ensured when storing Acetone the product could be protected from fire without hindering the company's operations."
Nathan Palmer, Head of Operations, Pure Nails comments: "From their first site visit through to the design and approval of the Firevault to it arriving and being installed in great condition onsite, we were very impressed with both the product and service provided by Chemstore UK.
"Getting the unit into the factory was really impressive. I would definitely recommend using them."
Fire-proof lithium-ion battery box
Chemstore, the hazardous materials experts, have added a fire-proof case for the safe storage and transport of lithium-ion batteries to their lithium-ion battery storage range.
The Zarges K470 battery box is a high quality aluminium container which is suitable for up to 3 lithium ion batteries of 814 Wh. The box is equipped with fireproof padding and absorbent material and has been successfully fire tested to ensure flame does not spread to adjacent batteries.
The box was originally designed for transporting damaged lithium-ion batteries and is tested and approved as hazardous goods packaging in accordance with UN requirements therefore it can be transported on public roads.
Chemstore already offers an outdoor storage option for lithium-ion batteries (the Electrovault) and an indoor storage option (the ION-LINE) so the Zarges K470 battery box is the perfect addition to the range.
Chemstore Managing Director, Mike Brodie comments: "Lithium-ion battery storage is a complex area with best practice guidance still evolving and misinformation unfortunately quite commonplace. Chemstore Engineering has fast become one of the leading product specialists in this area so we are delighted to further broaden our lithium-ion battery storage range with the addition of the Zarges battery box."
Watch this video to find out more.
Contact Chemstore Engineering on 020 8704 1807 or email  sales@chemstore.co.uk to find out more about our range of lithium-ion battery storage products and to arrange a free site survey.
Lithium Ion Battery Box
For storing and transporting defective or damaged lithium batteries in accordance with P 908.
High-quality special container made of aluminium
Suitable for up to 3 lithium batteries, each up to 814 Wh
Equipped with fireproof padding and absorbent material made of textured glass fibres
Successfully fire tested: flame does not spread to adjacent batteries, temperature at the container surface remains below 100°C
Tested and approved as hazardous goods packaging in accordance with UN requirements, i. e. can be transported on public roads
High level of stability due to 3 fully-welded aluminium profile frames.
Easy to load and unload
Note
Clearance dimensions approx. 30 mm less than inside dimensions (length and width). Special sizes on request
Special inserts available on request
Get ready for winter with temperature-controlled storage
How do colder months affect chemical storage in the workplace?
As winter approaches and colder temperatures start to hit, it's worth remembering that climate has an impact on quality and safety.
A fuel-testing module supplied by Chemstore to a BP UK site
Quality control
Temperature control is a critical factor when storing quantities of valuable products such as solvents, adhesives and coatings. It is essential in many industrial processes to maintain the optimal temperatures for these products to obtain the highest product quality for goods produced. For processes such as paint mixing, adhesive appliances and ingredient storage – companies need correct temperature controlled storage that is both compliant and fit for purpose.
Chemstore specialises in the manufacture of bespoke temperature controlled chemical stores that can be designed specifically for your product requirements.
Click here to see one of Chemstore's temperature controlled solutions in action featuring the new touch-screen delta control panel.
For more information, just contact one of our sales team today and get prepared for the winter ahead. Call +44 20 8704 1807 or  email sales@chemstore.co.uk
Lithium Ion Storage and Charging cabinet – 90 Minute Fire Rated
Introducing the ION-LINE cabinet.
In Active Storage, lithium-ion batteries or battery packs are charged in a cabinet

(passive storage options are available)
When charging lithium ion batteries heat can be generated, if this heat output is too high, a fire may occur, for example if the lithium ion battery, charger or the cable is defective. Another major risk factor is thermal runawayof lithium-ion batteries
What if you could charge you batteries overnight in the safe knowledge they are protected by a 90minute fire rated cabinet that has smoke dectection and fire suppression built in.
Dimensions: External 1,196W x 616D x 1,968H (mm)
Cabinet Weight: 424Kg
Loading: 180Kg evenly distributed load per shelf.
Storage: 6 No.  shelves and 1 no. bottom collecting sump .
Spillage Collection: 33 L Leak tested, welded steel, liquid collection sump in base.
Access:                       Twin hinged wing doors
Finish:                         Chemical resistant powder coat finish (Blue)
Exeter University – Safe Segregation and Storage of Hazardous Waste
Segregation of Chemicals at Exeter University
Sentence after teenage apprentice overcome by chemicals
An alloy wheel refurbishment company has been sentenced after a 16-year-old apprentice worker was overcome by vapours from a chemical used in the stripping and cleaning of alloy wheels.
South Tyneside Magistrates' Court heard how, on 12 December 2017, the employee of Wheelnut Ltd, entered an area of the company's former premises in Swalwell, Newcastle upon Tyne, known as the "acid room". The employee entered the room to retrieve alloy wheels from one of three barrels of a chemical substance containing Dichloromethane (DCM), Methanol and Hydrofluoric Acid used in the stripping process. He was subsequently found by a colleague slumped unconscious over a barrel.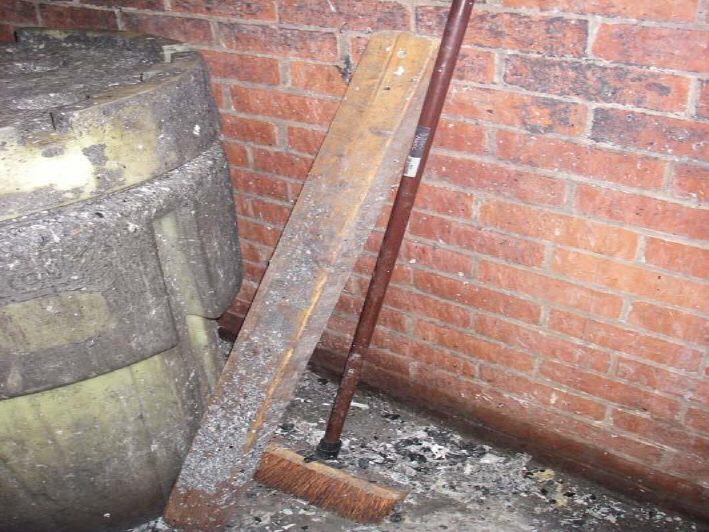 An investigation by the Health and Safety Executive (HSE) found a risk assessment for the chemical wheel stripping process was not suitable or sufficient. Appropriate control measures should have included suitable exhaust ventilation in the room as well as respiratory protective equipment (RPE) for the employees. RPE was provided but it was not maintained in an efficient or effective state. Several parts of it were damaged and the air feed to it from the compressor was not filtered correctly. The investigation found that on this occasion, and previously, the employee was not wearing the RPE when he entered the room. Employees were not provided with suitable and sufficient information, instruction, and training with regards to the risks involved with using the chemicals, particularly the risks involved with using DCM.
Wheelnut Ltd of Whickham Bank, Swalwell, Newcastle upon pleaded guilty to breaching Section 2(1) of the Health and Safety at Work etc Act 1974. The company was fined £32,000 and ordered to pay full costs of £1718.50.
Speaking after the hearing, HSE inspector Joy Craighead said: "A young worker suffered a potentially serious injury. Breathing in DCM vapour can produce narcotic effects and, at high concentrations, unconsciousness and death. In this instance, the boy made a full recovery, but it could have easily resulted in his death."
Commenting on the sentencing, Mike Brodie, Chemstore UK Managing Director said: "A storage arrangement with suitable extraction could have prevented this incident from happening. It is easy to underestimate the dangers of gases and vapours given off by chemicals because they can be odourless and vapourless but their effects can be devastating. Thankfully the apprentice in question made a full recovery but the incident is a reminder of the importance of storing hazardous substances correctly."
If you are unsure of your obligations in this area, contact Chemstore today for a free site assessment.
You may also be interested in our free corrosives storage checklist.
Aerospheres – Internal Segregation and Storage of Hazardous Chemicals and Flammables
Storage upgrade for Aerospheres
Electrovault
Lithium Ion Battery Store – Introducing Electrovault
Over two billion Lithium ion cells are produced every year, but major safety concerns surround battery storage, quarantine procedures, transport/disposal of damaged batteries and thermal runaway. During a thermal runaway, the high heat created by the failing cell can develop to the next cell, causing it to also become thermally unstable. A battery pack can be destroyed within minutes or last for hours as each cell runs away.  An irreversible thermal event in a lithium-ion battery can be initiated in several ways, by spontaneous internal or external short-circuit, overcharging, external heating or fire or even mechanical abuse.
During a thermal runaway hydrogen fluoride HF, phosphorus pentafluoride (PF5) and phosphoryl fluoride (POF3) are released, studies have shown that using water as a fire suppressant may also increase the formation of HF.
Our Electrovault storage units are made to comply with RC61 guidelines for Battery storage and can be tailored to suit your specification, whether that is:
Atex Rated Temperature control
Atex Rated Humidity Control
Atex Rated Gas detection systems
Fire Suppression Systems
Fire Rated  (including all Atex internal electrical components where required)
Atex Lighting
Remote monitoring systems
FIFO control operations
LIFO control operations
Fire rated and segregated Quarantine areas
Restricted access control
Fully automated extraction systems
Trust in our reputation for developing and delivering market-leading products and services for hazardous materials handling.
Improving the level of safety in your workplace is where our work begins. From there, we'll help you reduce your risk, liability and downtime, and therefore increase productivity. Plus, we'll take you beyond the legal standards for Health & Safety and Corporate Social Responsibility, with products and services that are also designed to exceed your performance expectations.