Lithium Ion Storage and Charging cabinet – 90 Minute Fire Rated
Introducing the ION-LINE cabinet.
In Active Storage, lithium-ion batteries or battery packs are charged in a cabinet

(passive storage options are available)
When charging lithium ion batteries heat can be generated, if this heat output is too high, a fire may occur, for example if the lithium ion battery, charger or the cable is defective. Another major risk factor is thermal runawayof lithium-ion batteries
What if you could charge you batteries overnight in the safe knowledge they are protected by a 90minute fire rated cabinet that has smoke dectection and fire suppression built in.
Dimensions: External 1,196W x 616D x 1,968H (mm)
Cabinet Weight: 424Kg
Loading: 180Kg evenly distributed load per shelf.
Storage: 6 No.  shelves and 1 no. bottom collecting sump .
Spillage Collection: 33 L Leak tested, welded steel, liquid collection sump in base.
Access:                       Twin hinged wing doors
Finish:                         Chemical resistant powder coat finish (Blue)
Sentence after teenage apprentice overcome by chemicals
An alloy wheel refurbishment company has been sentenced after a 16-year-old apprentice worker was overcome by vapours from a chemical used in the stripping and cleaning of alloy wheels.
South Tyneside Magistrates' Court heard how, on 12 December 2017, the employee of Wheelnut Ltd, entered an area of the company's former premises in Swalwell, Newcastle upon Tyne, known as the "acid room". The employee entered the room to retrieve alloy wheels from one of three barrels of a chemical substance containing Dichloromethane (DCM), Methanol and Hydrofluoric Acid used in the stripping process. He was subsequently found by a colleague slumped unconscious over a barrel.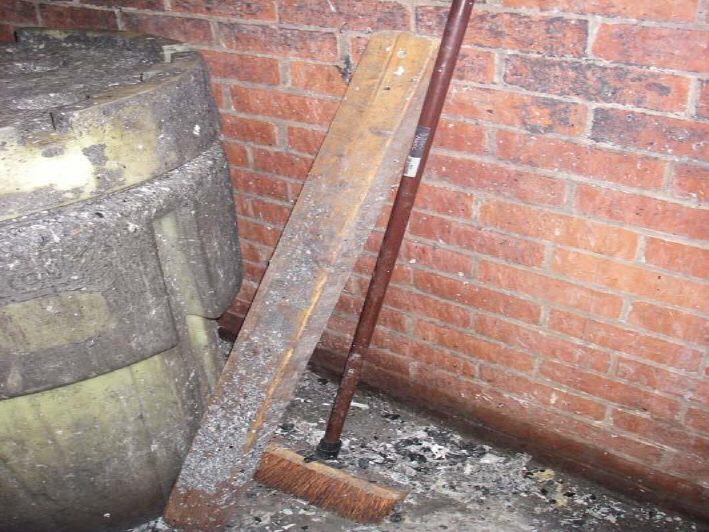 An investigation by the Health and Safety Executive (HSE) found a risk assessment for the chemical wheel stripping process was not suitable or sufficient. Appropriate control measures should have included suitable exhaust ventilation in the room as well as respiratory protective equipment (RPE) for the employees. RPE was provided but it was not maintained in an efficient or effective state. Several parts of it were damaged and the air feed to it from the compressor was not filtered correctly. The investigation found that on this occasion, and previously, the employee was not wearing the RPE when he entered the room. Employees were not provided with suitable and sufficient information, instruction, and training with regards to the risks involved with using the chemicals, particularly the risks involved with using DCM.
Wheelnut Ltd of Whickham Bank, Swalwell, Newcastle upon pleaded guilty to breaching Section 2(1) of the Health and Safety at Work etc Act 1974. The company was fined £32,000 and ordered to pay full costs of £1718.50.
Speaking after the hearing, HSE inspector Joy Craighead said: "A young worker suffered a potentially serious injury. Breathing in DCM vapour can produce narcotic effects and, at high concentrations, unconsciousness and death. In this instance, the boy made a full recovery, but it could have easily resulted in his death."
Commenting on the sentencing, Mike Brodie, Chemstore UK Managing Director said: "A storage arrangement with suitable extraction could have prevented this incident from happening. It is easy to underestimate the dangers of gases and vapours given off by chemicals because they can be odourless and vapourless but their effects can be devastating. Thankfully the apprentice in question made a full recovery but the incident is a reminder of the importance of storing hazardous substances correctly."
If you are unsure of your obligations in this area, contact Chemstore today for a free site assessment.
You may also be interested in our free corrosives storage checklist.
Electrovault
Over two billion Lithium ion cells are produced every year, but major safety concerns surround battery storage, quarantine procedures, transport/disposal of damaged batteries and thermal runaway. During a thermal runaway, the high heat created by the failing cell can develop to the next cell, causing it to also become thermally unstable. A battery pack can be destroyed within minutes or last for hours as each cell runs away.  An irreversible thermal event in a lithium-ion battery can be initiated in several ways, by spontaneous internal or external short-circuit, overcharging, external heating or fire or even mechanical abuse.
During a thermal runaway hydrogen fluoride HF, phosphorus pentafluoride (PF5) and phosphoryl fluoride (POF3) are released, studies have shown that using water as a fire suppressant may also increase the formation of HF.
Our Electrovault storage units are made to comply with RC61 guidelines for Battery storage and can be tailored to suit your specification, whether that is:
Atex Rated Temperature control
Atex Rated Humidity Control
Atex Rated Gas detection systems
Fire Suppression Systems
Fire Rated  (including all Atex internal electrical components where required)
Atex Lighting
Remote monitoring systems
FIFO control operations
LIFO control operations
Fire rated and segregated Quarantine areas
Restricted access control
Fully automated extraction systems
Trust in our reputation for developing and delivering market-leading products and services for hazardous materials handling.
Improving the level of safety in your workplace is where our work begins. From there, we'll help you reduce your risk, liability and downtime, and therefore increase productivity. Plus, we'll take you beyond the legal standards for Health & Safety and Corporate Social Responsibility, with products and services that are also designed to exceed your performance expectations.
Chemical Warehouses
Here at Chemstore we listen to our clients requirements and design bespoke storage solutions to suit your needs.
Our Chemical warehouses are made to comply with HSG71 guidelines
and can be tailored to suit your specification needs, whether that is:
Temperature control (Cold stores, ambient or hot rooms)
Fire Suppression Systems (Gas, Foam, Water or specific compatible media)
Fire Rated  (including all Atex internal electrical components where required)
Lighting
Remote monitoring
FIFO control operations
LIFO control operations
Quarantines areas
Restricted access control
CCTV
Clean room areas
Mobile Laboratory systems
Fully automated extraction systems
Fully bunded segregation of chemicals
Trust in our reputation for developing and delivering market-leading products and services for hazardous materials handling.
Improving the level of safety in your workplace is where our work begins. From there, we'll help you reduce your risk, liability and downtime, and therefore increase productivity. Plus, we'll take you beyond the legal standards for Health & Safety and Corporate Social Responsibility, with products and services that are also designed to exceed your performance expectations.
Here are just a few examples of what makes Chemstore stand out from the crowd:
Full design service
Find out how a tailor-made solution could work for you. Discuss your specific site requirements with us and we'll engineer a bespoke proposal that slots right in with your needs.
Fast turnaround
Your deadlines are our priority. We manufacture to strict, in-house quality guidelines and can deliver to suit your deadlines. Plus, our experienced steel fabricators operate to the highest possible standards of excellence.
Quality you can count on
You'll benefit from a 10 year structural guarantee on most products.
Firevault – Walk In Fire Rated Stores
Walk In Fire Rated Stores Stores
The FireVault storage module provides the highest level of safety instantly for the secure storage of all flammable materials. All areas of industry currently employ flammables in their processes from petroleum products to industrial chemicals.

Manufactured to the highest standards utilising only those fireproofing materials, which have been tested to BS 476, part 22, FireVault Stores comply with all relevant Health & Safety Regulations, Insurance requirements and environmental standards such as IS310, ISO 14001, EMAS and IPC licensing.

Standard features include, full width spillage collection sumps, up to 5 hour fire rated composite wall panels, insulated self-closing doors, intumescent ventilation panels, fixed shelving, anti-static grounding connections, fully welded, leak tested bunds, galvanized grid mesh floors. A range of optional extras are also available for the Firevault units including ex-rated electrical fittings.         

All Firevault units are delivered to site fully assembled and ready for immediate use. No special site works are required and at any future time, they can easily be relocated by forklift truck or crane, thereby offering excellent flexibility.
The most common Firevaults are the Walk In Stores used for small container storage (25L cans, Winchesters etc) and feature:
1, 2 or 4 hour fire rated cladding fitted on all sides.

Firevaults are designed in accordance with EN–14470-1 European Regulations

Self-closing door mechanisms and internally overriding door locks fitted to all units

Fire-rated intumescent air vents fitted at high and low level to ensure excellent natural airflow

Fire rated door seals fitted throughout

Electrostatic management system installed to prevent static sparking from igniting flammable vapours

All electrical equipment fully ATEX rated and installed by a Compex certified engineer

Forced extraction system available

Constructed from fully welded steel box section throughout

Fully welded and leak tested bunding underneath floor level

Single or double access doors available

Fixed or adjustable shelving fitted
Firevault – Fire Rated Critical Equipment Enclosure
Fire Rated Critical Equipment Enclosure
With over 24 years experience in the design manufacture and implementation of safety storage systems for hazardous materials, We know from speaking to our clients that the most prevalent risk has always been in the storage of flammables. What also must be considered is the protection of valuable equipment. The Firevault can employed as a Fire rated critical equipment enclosure. Whether it be the HSE, EPA or even company insurers carrying out assessments on your site it will always be the risk of fire that is given the highest priority. The Firevault enables you to obtain the highest level of safety and protection when storing flammable materials or protecting your most valuable assets on on site.
Firevault units can be manufactured to suit bespoke site specific requirements.
Pallet stores
Walk In stores
Small container stores
Combination stores
Lighting
Heating
Power outlet sockets
Electrostatic management systems
Forced extraction systems
Extraction airflow alarms
Fire suppression systems
Smoke / fire detection systems
Fume scrubbing systems
S90.196.120 (WDAS) – 90 Minute Flammables Storage Cabinet
The asecos range of Cabinets are a renowned standard of quality employed throughout a full range of industries in the UK.
Robust construction and longevity: triple hinged door, body made of powder-coated sheet steel, safety elements assembled outside the cabinet for increased protection against corrosion
User-friendly and safe (model .WDAS): door open arrest system, convenient and safe removal or storage of containers
No unauthorised use: doors lockable with profile cylinder (integration in an existing _locking system possible)
Easy alignment: adjusting aids to compensate for uneven floor
Ventilation: integrated air ducts ready for connection (DN_75) to a technical exhaust system
Dimensions: External 1,196W x 616D x 1,968H (mm)
Cabinet Weight: 420Kg
Loading: 75Kg evenly distributed load per shelf.
Storage: 3 No. adjustable shelves and 1 no. bottom collecting sump with perforated insert.
Spillage Collection: 33 L Leak tested, welded steel, liquid collection sump in base.
Access:                       Twin hinged wing doors
Finish:                         Chemical resistant powder coat finish (Yellow)
Firevault – Organic Peroxide Storage
Stainless Steel Construction
Typically, chemical stores would be fabricated from mild steel which is then over-painted with a 2-part or 3-part industrial paint system. Standard units would also have exposed galvanized grid decking onto which the pallets would rest – these are unpainted and therefore expose the mild steel to the chemicals stored – in this case Organic Peroxide.
When designing an organic peroxide store a Grade 316 stainless steel finish is required, in all locations that could come into contact with the Peroxide. This includes the storage areas, the spillage retention bunds and the fire water retention tank.
The relevant HSE Guidance reference is called: –
 CS21 – The Storage and Handling of Organic Peroxides. – Download it here

This is written, specifically to cover the
"… handling and storage of organic peroxides at customer or user sites."
It clearly details the hazards associated with exposing such chemicals to mild/carbon steel: –
"… commercially available organic peroxides are capable of self heating and runaway decomposition. Initiation is by heating or contamination with, for example, transition metal compounds (particularly those of vanadium, chromium, manganese, iron and cobalt) amines, strong acids and alkalis."
 Furthermore, para 28, when discussing the handling of organic peroxides, states that: –
"… All containers and equipment which come into contact with peroxides must be compatible. Suitable materials include glass, porcelain, polyethylene and 316 grade stainless steel."
Temperature Controlled Stores
A very common problem our clients have is maintaining valuable liquids and and process chemicals within the correct temperature range for optimum safety and performance. Temperature Controlled Stores are the solution.
Valuable time is lost in waiting for chemicals to heated to performance temperatures and also product is fouled by exposure to incorrect temperatures.
Chemstore's temperature controlled stores are stand-alone relocatable, insulated stores which are designed to provide secure, controlled storage for temperature sensitive materials. We offer a full range of sizes together with heating and cooling options. Depending on the hazardous material being stored by harnessing the SDS sheet Chemstore can provide the required storage temperature to alleviate any hazard presented by storing materials on site.
We also offer drum & IBC's Enclosures designed to heat the contents of standard drums and IBC's from freezing or ambient to your required processing temperature.
Features of Temperature Controlled Stores:
Full range of sizes and temperature ranges.

Full technical advice and Design Service: manufactured to customers specific requirements.

Fully adjustable. Set temperature band (e.g. 0–600C) or maximum/minimum allowable temperature.

LCD temperature display and printout.

High levels of insulation.

Audible alarm and beacon.

Full operator safety features.

Suitable for Indoor or Outdoor location.

Delivered to site fully assembled, minimal lead time.

Electric or steam heat source.

Internal re circulation fan ensures even distribution of heated air.

Explosion protected electrical apparatus (suitable for Zone 1 & 2).

Fully bunded.

Stainless steel or galvanised interior.
Gasvault – Gas Cylinder Stores
Chemstore's range of Gas Cylinder Stores
The GasVault range of stores are specifically designed to provide a safe, ergonomic range of compliant storage solutions for gas cylinders.
The GasVault range addresses the following key safety issues:
Designed and manufactured in accordance with the BCGA (Guidance for the storage of Gas Cylinders in the workplace).
Full structural certification and a 10 year structural warranty available on a GasVault units.

All cylinders are stored upright and secured with chain restraints.

Open mesh panels are used to prevent accumulation of harmful / explosive gases.

Cylinders of incompatible gases can be stored in the same store by employing a fire rated segregation wall.

Empty cylinders can be segregated from full containers and are clearly labelled.

If stored externally, weather-proof roofing is required to protect cylinder fittings from rain water.

Raised flooring should also be used to protect cylinder from corrosive bases &  ground water erosion.
Features : Gas Cylinder Stores
Heavy duty steel construction

Option of sliding or hinged access doors – fully lockable.

Mesh gates and ventilation panels ensure adequate ventilation and prevent build-up of potentially explosive gas leaks.

Non-slip galvanised floor & ramp

Firewalls supplied where required

Full range of sizes to suit all cylinder sizes and applications

All units have fixed arms and retaining chains to prevent accidents and ensure maximum use of space

Delivered to site fully assembled

Units can easily be relocated with fork trucks

No site works are required