Case study: Storing Acetone
When professional nail product distributor, Pure Nails, was looking for a storage solution for safely storing Acetone within their factory before it was forwarded for onward distribution, they turned to Chemstore UK.
As Acetone is highly flammable it needed to be housed in a 90minute fire rated structure but it also needed to be easily accessible so orders could be fulfilled quickly and efficiently.
Following a site visit from Account Manager, Stephen Mansell, Chemstore UK proposed a bespoke Firevault unit which measured 14m long and, rather than housing standard pallet racking, incorporated front and back access for easy loading and unloading of boxes.
Stephen Mansell explains: "The Acetone remains within its manufactured sealed containers during the time that Pure Nails handles it so it is unlikely to be the source of a fire, but due to Acetone's highly flammable nature, it was essential to keep it protected from potential fires started elsewhere within the premises.  The bespoke Firevault was the perfect solution because it ensured when storing Acetone the product could be protected from fire without hindering the company's operations."
Nathan Palmer, Head of Operations, Pure Nails comments: "From their first site visit through to the design and approval of the Firevault to it arriving and being installed in great condition onsite, we were very impressed with both the product and service provided by Chemstore UK.
"Getting the unit into the factory was really impressive. I would definitely recommend using them."
Fire-proof lithium-ion battery box
Chemstore, the hazardous materials experts, have added a fire-proof case for the safe storage and transport of lithium-ion batteries to their lithium-ion battery storage range.
The Zarges K470 battery box is a high quality aluminium container which is suitable for up to 3 lithium ion batteries of 814 Wh. The box is equipped with fireproof padding and absorbent material and has been successfully fire tested to ensure flame does not spread to adjacent batteries.
The box was originally designed for transporting damaged lithium-ion batteries and is tested and approved as hazardous goods packaging in accordance with UN requirements therefore it can be transported on public roads.
Chemstore already offers an outdoor storage option for lithium-ion batteries (the Electrovault) and an indoor storage option (the ION-LINE) so the Zarges K470 battery box is the perfect addition to the range.
Chemstore Managing Director, Mike Brodie comments: "Lithium-ion battery storage is a complex area with best practice guidance still evolving and misinformation unfortunately quite commonplace. Chemstore Engineering has fast become one of the leading product specialists in this area so we are delighted to further broaden our lithium-ion battery storage range with the addition of the Zarges battery box."
Watch this video to find out more.
Contact Chemstore Engineering on 020 8704 1807 or email  sales@chemstore.co.uk to find out more about our range of lithium-ion battery storage products and to arrange a free site survey.
Lithium Ion Battery Box
For storing and transporting defective or damaged lithium batteries in accordance with P 908.
High-quality special container made of aluminium
Suitable for up to 3 lithium batteries, each up to 814 Wh
Equipped with fireproof padding and absorbent material made of textured glass fibres
Successfully fire tested: flame does not spread to adjacent batteries, temperature at the container surface remains below 100°C
Tested and approved as hazardous goods packaging in accordance with UN requirements, i. e. can be transported on public roads
High level of stability due to 3 fully-welded aluminium profile frames.
Easy to load and unload
Note
Clearance dimensions approx. 30 mm less than inside dimensions (length and width). Special sizes on request
Special inserts available on request
The trouble with stockpiling
According to the latest report from IHS Markit and the Chartered Institute of Procurement and Supply a number of firms are raising purchasing again as they restart Brexit preparations.
Chemstore UK has seen lots of examples of stockpiling during site surveys this year and we have identified some common safety concerns. Firstly, many companies are stockpiling hazardous chemicals without anywhere to safely store them, so this is something procurement departments need to be aware of before ordering surplus supplies. In addition, where companies are increasing production to meet stockpiling demands there is likely to be an increase in waste; a common situation is for waste to be left on site until a full trailer or lorry load can be filled yet no safe allocation has been made for this volume of hazardous waste. An example of small scale safe segregated waste storage can be seen here).
We urge anyone holding or producing additional hazardous materials to carefully consider their storage arrangements and if in doubt please get in touch. Call 020 8704 1807 or  email sales@chemstore.co.uk
Investing in additional safe storage facilities can be an essential part of contingency planning. Chemstore UK also offers rental options.
Get ready for winter with temperature-controlled storage
How do colder months affect chemical storage in the workplace?
As winter approaches and colder temperatures start to hit, it's worth remembering that climate has an impact on quality and safety.
A fuel-testing module supplied by Chemstore to a BP UK site
Quality control
Temperature control is a critical factor when storing quantities of valuable products such as solvents, adhesives and coatings. It is essential in many industrial processes to maintain the optimal temperatures for these products to obtain the highest product quality for goods produced. For processes such as paint mixing, adhesive appliances and ingredient storage – companies need correct temperature controlled storage that is both compliant and fit for purpose.
Chemstore specialises in the manufacture of bespoke temperature controlled chemical stores that can be designed specifically for your product requirements.
Click here to see one of Chemstore's temperature controlled solutions in action featuring the new touch-screen delta control panel.
For more information, just contact one of our sales team today and get prepared for the winter ahead. Call +44 20 8704 1807 or  email sales@chemstore.co.uk
HSE issues advice on trading chemicals in the event of a no-deal Brexit
Advice on trading chemicals: If the UK leaves the EU without a deal companies will need to follow new rules for trading certain types of chemicals with the EU after 31 October, according to advice from the HSE.
Import or export licences needed
Just as is the case for countries outside the EU, companies may need import or export licences to trade drug precursor chemicals with the EU.
Domestic licence of registration required
To apply for an import or export licence companies must have a domestic licence or registration, which usually takes 12-16 weeks to process.
Apply now to avoid delay
The HSE advises to avoid disruption, companies can check whether the chemicals they trade will be affected and apply for a domestic licence now.
Go to GOV.UK for further guidance.
Working safely with static
In this article Mike Brodie, Chemstore UK MD, outlines some of the risks associated with working with static and offers some best practice guidance.
What is static?
Static electricity is, simply put, electricity that is stuck in a system with nowhere to go. Within a typical electrical circuit, the charge is contained within a closed loop and returns to the source after carrying out a specific task, powering your kettle or lighting your office for example.
Static is different in that it can accumulate, often unnoticed, on plant, containers or even personnel. Due to lack of awareness or complacency in the workplace this build-up of energy can result in devastating, yet entirely avoidable accidents.
The accumulation of electrostatic charge is caused by barriers between the static charge and its path to 'true earth'. For example, electrostatic charge on steel drums can be prevented from being dissipated by the presence of protective coatings, rust, debris build up and even surface layers of the stored product. Static build up on personnel can be a result of wearing the wrong footwear, or the use of insulating gloves when handling product.
Electrostatic sparking is caused by the rapid ionisation of the atmosphere between two objects at different electrical potential. When this voltage reaches a critical level, ionisation occurs in the form of a spark.
If the atmosphere across the spark is between its upper and lower flammable limits, ignition of the atmosphere will occur, resulting in fire or explosion.
The dangers of static
Possibly the most famous example of a disastrous electrostatic discharge is the Hindenburg 'Airship' explosion. According to a team of experts recently assigned to conclude what caused the vessel to explode on 6th May, 1937, determined the most likely cause was a build-up of electrostatic energy transferred to the airship by passing through highly charged thunderstorm clouds. The problem came about during landing, as the ground crew reached for the tie down ropes, a path was created for the charge to spark to ground as contact with the earth was made. This, in turn, ignited the Hydrogen gas used to fill the ship, resulting in the explosion that killed 36 passengers that day.
Manoa Laboratory 2016
A more recent example of disastrous electrostatic discharge includes an explosion in 2016 within the Manoa Laboratory at the University of Hawaii. Investigators noted that: –
"…serious deficiencies in the institution's approach to laboratory safety contributed to a lapse in proper risk assessment and lack of a culture of safety that ultimately led to the accident".
A research fellow, visiting the Hawaii Natural Energy Institute biofuels research laboratory, was transferring a mix of flammable gases into a low pressure tank when the explosion occurred. The explosion seriously injured the lab technician, causing her to lose her arm. The University suffered an estimated $1,000,000 in damage to property and faces up to $115,500 in fines.
Initial investigations put the blame on an incorrectly specified pressure gauge that was not suitable for use with flammable gases, however further studies into the event placed the blame on static discharge within the tank.
University of Hawaii Source
It appears the explosion could have been avoided however by carrying out a more detailed risk assessment of the process. In fact, although the experiment had been carried out 10 or 11 times previously it was noted that the investigators discovered a number of 'near misses' that should have caused the process to be shut down and investigated further.
For example, a 'cracking' sound was reported during a similar experiment on another tank but the technician was advised to simply not use that equipment again. Equally of concern is that the technician had also reported receiving static shocks when touching the pressure vessel but was told not to worry about it.
Where is static likely to occur in the workplace?
It is always essential to consider static accumulation within workplace processes, but more so when these processes involve the creation of potentially explosive atmospheres. Such activities do not have to involve large quantities of flammables liquids or dusts. A few litres of flammable liquid, under the right circumstances can create the perfect conditions for an explosion throughout a workshop or laboratory. Common activities often include the collection of waste into larger drums/IBC's for bulk disposal, or decanting of good product from larger drums into smaller containers for transfer into the workshop or laboratory.
During both processes a release of flammable vapour is often unavoidable. A static discharge at this time can easily result in a devastating explosion or fire.
Responsibility for these activities most likely rests with the operators, however due to the absence of a visible or tangible hazard, a lack of understanding or awareness can lead to complacency or honest mistakes and an electrostatic ignition.
As an example, a calculation can be made to show the energy of an electrostatic charge typically found on a metal drum containing liquid.
Example spark energy (joules) of a steel drum containing liquid = approx. 8.0 mJ
| | |
| --- | --- |
| Liquid / Gas | Minimum Ignition Energy |
| Methanol | 0.14mJ |
| MEK | 0.53mJ |
| Acetone | 1.15mJ |
| Toluene | 0.24mJ |
It is clear to see that there is easily enough energy in commonly found activities to ignite a flammable atmosphere (within the explosive limits) of regularly used chemicals.
Legislation
There are many articles and best practice guides available in the market. In the UK, the DSEAR – Dangerous Substances and Explosive Atmospheres Regulations requires that a thorough risk assessment is carried out by a competent person.
"…Where a dangerous substance is or is liable to be present at the workplace, the employer shall make a suitable and sufficient assessment of the risks to his employees which arise from that substance. … [including] … the likelihood that ignition sources, including electrostatic discharges, will be present and become active and effective"
Regulation 5 – Risk Assessment.
How Chemstore UK can help to solve the problem
Firstly, Chemstore can supply an on site assessment of your processes and facilities. If necessary, we can carry out a full DSEAR Risk Assessment for you to address any concerns you have regarding your process and to help put a plan in place for safe practices going forward.
This can then be re-enforced with operator and staff training and awareness courses to improve knowledge of the risks and associated hazards.
Chemstore's Firevault and Safety Cabinet ranges can be supplied to ensure that all flammable liquids and gases are properly stored and that the environment for material transfer is made safe.
We can also offer a range of grounding equipment, depending on the application, to ensure operators have the right equipment to carry out the tasks on site.
Preferably, such equipment should not only monitor the presence of a connection to true earth (thus ensuring and static can safely drain away) but should also alert the operator if this state changes and the system becomes potentially dangerous.
The operator can then shut down the process until the issue can be rectified.
Static grounding requirements: What precautions should be taken when transferring flammable liquids from a metal container to a metal receiver?
When transferring liquids to/from 200L metal drums, for example – we would typically recommend using 'pressure clamps' capable of penetrating any surface barriers like rust, protective coatings usually present in such scenarios.
These clamps must be capable of achieving the (industrially accepted) contact resistance of 10 Ohms or less. Not only should they achieve this level of conductivity, but they should also be able to notify the operator that a good connection is 'made', or more importantly 'not made'.
Please enquire here for more information on this range of active products
Although 'active' systems clearly offer a preferred level of risk mitigation, sites may (after careful risk assessment) elect to implement a more passive system that does not have ground status monitoring or feedback capability. In this case it is essential to understand the limitations of such a system, to ensure that a good connection has indeed been made and continues to be made during the process. The use of certified and approved Factory Mutual or ATEX equipment is essential to achieve this – which Chemstore can supply on request.
Chemstore's got lithium-ion battery storage covered
Chemstore, the hazardous materials experts, have added the ION-LINE, a 90 minute fire rated lithium-ion storage and charging cabinet for the indoor storage of lithium-ion batteries, to its lithium-ion battery storage offering.
When charging lithium-ion batteries heat can be generated, if this heat output is too high, a fire may occur, for example if the lithium-ion battery, charger or the cable is defective. Another major risk factor is thermal runaway of lithium-ion batteries
The ION-LINE allows charging of batteries overnight in the safe knowledge they are protected by a 90minute fire rated cabinet that has smoke detection and fire suppression built in.
"Standard fire-rated units just won't do when it comes to lithium-ion battery storage which is why it is important to consult a specialist such as Chemstore who are fast becoming the go-to experts on this issue."
The ION-LINE cabinet also features a fire suppression system and smoke detectors.
Chemstore Managing Director Mike Brodie comments: "The addition of the ION-LINE to our range means that we now have lithium-ion battery storage covered with an outdoor (Electrovault) and indoor offering as well as the option to create bespoke storage solutions.
"Standard fire-rated units just won't do when it comes to lithium-ion battery storage which is why it is important to consult a specialist such as Chemstore who are fast becoming the go-to experts on this issue."
ION-LINE features include:
Dimensions: External 1,196W x 616D x 1,968H (mm)
Cabinet Weight: 424Kg
Loading: 180Kg evenly distributed load per shelf.
Storage: 6 No.  shelves and 1 no. bottom collecting sump .
Spillage Collection: 33 L Leak tested, welded steel, liquid collection sump in base.
Access:                       Twin hinged wing doors
Finish:                         Chemical resistant powder coat finish (Blue)
Lithium Ion Storage and Charging cabinet – 90 Minute Fire Rated
Introducing the ION-LINE cabinet.
In Active Storage, lithium-ion batteries or battery packs are charged in a cabinet

(passive storage options are available)
When charging lithium ion batteries heat can be generated, if this heat output is too high, a fire may occur, for example if the lithium ion battery, charger or the cable is defective. Another major risk factor is thermal runawayof lithium-ion batteries
What if you could charge you batteries overnight in the safe knowledge they are protected by a 90minute fire rated cabinet that has smoke dectection and fire suppression built in.
Dimensions: External 1,196W x 616D x 1,968H (mm)
Cabinet Weight: 424Kg
Loading: 180Kg evenly distributed load per shelf.
Storage: 6 No.  shelves and 1 no. bottom collecting sump .
Spillage Collection: 33 L Leak tested, welded steel, liquid collection sump in base.
Access:                       Twin hinged wing doors
Finish:                         Chemical resistant powder coat finish (Blue)
Sentence after teenage apprentice overcome by chemicals
An alloy wheel refurbishment company has been sentenced after a 16-year-old apprentice worker was overcome by vapours from a chemical used in the stripping and cleaning of alloy wheels.
South Tyneside Magistrates' Court heard how, on 12 December 2017, the employee of Wheelnut Ltd, entered an area of the company's former premises in Swalwell, Newcastle upon Tyne, known as the "acid room". The employee entered the room to retrieve alloy wheels from one of three barrels of a chemical substance containing Dichloromethane (DCM), Methanol and Hydrofluoric Acid used in the stripping process. He was subsequently found by a colleague slumped unconscious over a barrel.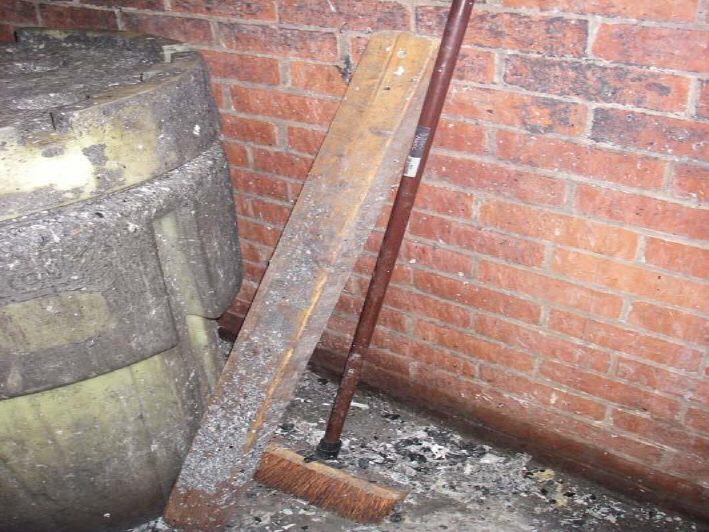 An investigation by the Health and Safety Executive (HSE) found a risk assessment for the chemical wheel stripping process was not suitable or sufficient. Appropriate control measures should have included suitable exhaust ventilation in the room as well as respiratory protective equipment (RPE) for the employees. RPE was provided but it was not maintained in an efficient or effective state. Several parts of it were damaged and the air feed to it from the compressor was not filtered correctly. The investigation found that on this occasion, and previously, the employee was not wearing the RPE when he entered the room. Employees were not provided with suitable and sufficient information, instruction, and training with regards to the risks involved with using the chemicals, particularly the risks involved with using DCM.
Wheelnut Ltd of Whickham Bank, Swalwell, Newcastle upon pleaded guilty to breaching Section 2(1) of the Health and Safety at Work etc Act 1974. The company was fined £32,000 and ordered to pay full costs of £1718.50.
Speaking after the hearing, HSE inspector Joy Craighead said: "A young worker suffered a potentially serious injury. Breathing in DCM vapour can produce narcotic effects and, at high concentrations, unconsciousness and death. In this instance, the boy made a full recovery, but it could have easily resulted in his death."
Commenting on the sentencing, Mike Brodie, Chemstore UK Managing Director said: "A storage arrangement with suitable extraction could have prevented this incident from happening. It is easy to underestimate the dangers of gases and vapours given off by chemicals because they can be odourless and vapourless but their effects can be devastating. Thankfully the apprentice in question made a full recovery but the incident is a reminder of the importance of storing hazardous substances correctly."
If you are unsure of your obligations in this area, contact Chemstore today for a free site assessment.
You may also be interested in our free corrosives storage checklist.