Lithium Ion Battery Box
For storing and transporting defective or damaged lithium batteries in accordance with P 908.
High-quality special container made of aluminium
Suitable for up to 3 lithium batteries, each up to 814 Wh
Equipped with fireproof padding and absorbent material made of textured glass fibres
Successfully fire tested: flame does not spread to adjacent batteries, temperature at the container surface remains below 100°C
Tested and approved as hazardous goods packaging in accordance with UN requirements, i. e. can be transported on public roads
High level of stability due to 3 fully-welded aluminium profile frames.
Easy to load and unload
Note
Clearance dimensions approx. 30 mm less than inside dimensions (length and width). Special sizes on request
Special inserts available on request
The trouble with stockpiling
According to the latest report from IHS Markit and the Chartered Institute of Procurement and Supply a number of firms are raising purchasing again as they restart Brexit preparations.
Chemstore UK has seen lots of examples of stockpiling during site surveys this year and we have identified some common safety concerns. Firstly, many companies are stockpiling hazardous chemicals without anywhere to safely store them, so this is something procurement departments need to be aware of before ordering surplus supplies. In addition, where companies are increasing production to meet stockpiling demands there is likely to be an increase in waste; a common situation is for waste to be left on site until a full trailer or lorry load can be filled yet no safe allocation has been made for this volume of hazardous waste. An example of small scale safe segregated waste storage can be seen here).
We urge anyone holding or producing additional hazardous materials to carefully consider their storage arrangements and if in doubt please get in touch. Call 020 8704 1807 or  email sales@chemstore.co.uk
Investing in additional safe storage facilities can be an essential part of contingency planning. Chemstore UK also offers rental options.
Sentence after teenage apprentice overcome by chemicals
An alloy wheel refurbishment company has been sentenced after a 16-year-old apprentice worker was overcome by vapours from a chemical used in the stripping and cleaning of alloy wheels.
South Tyneside Magistrates' Court heard how, on 12 December 2017, the employee of Wheelnut Ltd, entered an area of the company's former premises in Swalwell, Newcastle upon Tyne, known as the "acid room". The employee entered the room to retrieve alloy wheels from one of three barrels of a chemical substance containing Dichloromethane (DCM), Methanol and Hydrofluoric Acid used in the stripping process. He was subsequently found by a colleague slumped unconscious over a barrel.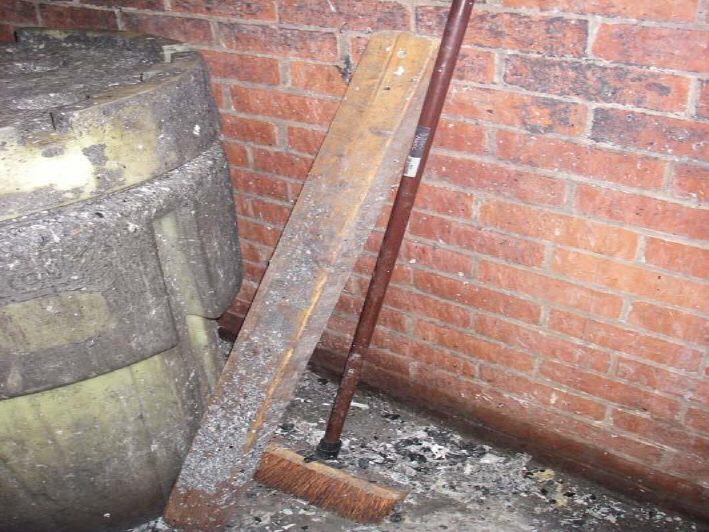 An investigation by the Health and Safety Executive (HSE) found a risk assessment for the chemical wheel stripping process was not suitable or sufficient. Appropriate control measures should have included suitable exhaust ventilation in the room as well as respiratory protective equipment (RPE) for the employees. RPE was provided but it was not maintained in an efficient or effective state. Several parts of it were damaged and the air feed to it from the compressor was not filtered correctly. The investigation found that on this occasion, and previously, the employee was not wearing the RPE when he entered the room. Employees were not provided with suitable and sufficient information, instruction, and training with regards to the risks involved with using the chemicals, particularly the risks involved with using DCM.
Wheelnut Ltd of Whickham Bank, Swalwell, Newcastle upon pleaded guilty to breaching Section 2(1) of the Health and Safety at Work etc Act 1974. The company was fined £32,000 and ordered to pay full costs of £1718.50.
Speaking after the hearing, HSE inspector Joy Craighead said: "A young worker suffered a potentially serious injury. Breathing in DCM vapour can produce narcotic effects and, at high concentrations, unconsciousness and death. In this instance, the boy made a full recovery, but it could have easily resulted in his death."
Commenting on the sentencing, Mike Brodie, Chemstore UK Managing Director said: "A storage arrangement with suitable extraction could have prevented this incident from happening. It is easy to underestimate the dangers of gases and vapours given off by chemicals because they can be odourless and vapourless but their effects can be devastating. Thankfully the apprentice in question made a full recovery but the incident is a reminder of the importance of storing hazardous substances correctly."
If you are unsure of your obligations in this area, contact Chemstore today for a free site assessment.
You may also be interested in our free corrosives storage checklist.
PES Stores – Pesticides
The Chemstore pesticide stores are designed for storing any agrochemical such as plant protection products, animal remedies or biocides. Our new pesticide stores are fully compliant with IASIS (Irish Agricultural Supply Industry Standards) and the HSE Guidance Document – Storing pesticides for farmers and other professional users
You are ensured that the storage for your pesticides are designed and constructed in compliance with relevant statutory requirements and are managed and operated to achieve a high level of protection for workers and for the environment.
The Chemstore PES range can be equipped with required safety & hazard labels for your site on request.
Features:
Fully bunded. Capacities in excess of EPA & EA recommendations
Range of standard sizes as seen below.
Can be manufactured to customer dimensions
Delivery to site fully assembled.
Fitted with forklift channels and roof-fixed crane lifting points to allow for easy unloading and relocation if required.
Fully secure
Fixed or adjustable shelving
Choice of finishes, colour options
Fully ventilated, optional electrical extraction
Single skin or insulated construction
Optional lighting
Extreme increase in undeclared hazardous materials
The German transportation company Hapag-Lloyd has recently announced that in 2015 they saw an immense 65% increase in improperly declared hazardous materials that were carried by cargo. The announcement has been made possible due to Hapag-Lloyd's Watchdog IT system, which analyses cargo data and flags up anything suspicious. This special safety software was industrialised by the company's ocean carriers' information technology and dangerous goods experts. It has been key in identifying dangerous goods, as it continuously checks for potentially hazardous materials.
Hapag-Lloyd announced that in 2015 they pin-pointed 4314 cases of incorrectly declared cargo. This is a 65% increase from 2014. It is believed that their dangerous goods specialists examined more than 236,000 suspicious cases which came to the attention of the firm's safety software in 2015. This is a 46% growth from the previous year.
Why exactly has this increase occurred?
This swift increase in incorrectly declared hazardous materials is primarily down to two factors. One of the key reasons is the Tianjin explosion in China, which took place at a warehouse at the port which held hazardous chemicals. It's widely reported that these chemicals were improperly stored, which caused the blast and left 173 people dead. Subsequently security measures were greatly tightened at the warehouse. The dangerous goods guidelines were tightened tremendously, and even prohibited hazardous goods completely in some cases. Rainer Horn, a spokesman from Hapag Lloyd, clarified that: "Many Chinese ports banned dangerous goods cargo partly or wholly after the explosions. So shippers didn't declare their dangerous goods cargo hoping that they could get the cargo through." Despite the fact that some ports have restrictions and rules in place which prohibit dangerous goods, some shippers are deliberately not declaring goods so that they can use all ports and carriers.
It's believed that the other major reason for this increase in undeclared harmful goods is Hapag-Lloyds merger with CSAV's container business. This merger boosted their overall business, and as a result increased the overall number of undeclared hazardous materials.
So what are the dangers involved with this increase?
The Tianjin blast highlights the importance of both appropriate storage and declaration of hazardous goods. Dangerous goods which are not declared hold a massive threat. In a statement Hapag-Lloyd described how: "Dangerous goods that are declared imprecisely, incorrectly or not at all have the potential to pose a major risk to crews, ships, the environment and other cargo on board." It is extremely important for the crew members to know exactly what is inside the containers, so that they are able to carry out the correct handling procedures.
It's clear from Hapag-Lloyd's recent announcements about undeclared hazardous materials that there is a pressing need to improve health and safety legislation. Ken Rohlmann, head of the company's dangerous goods department, sums up the danger of incorrectly declared dangerous goods in his statement: "If you consider that a single incorrectly declared container is enough to cause a disaster, the devastating potential of every single incorrect or non-declaration becomes clear."
3 steps for selecting a hazardous material storage solution provider
Hazardous materials, whether in a raw state or the finished product, are capable of producing a wide range of physical damage – from fires and explosions to health problems and, in some cases, even death.
So when you're choosing a hazardous storage solution provider, it's essential you do your research to ensure you find a provider that has the right solution for your needs, is experienced in dealing with your hazardous goods, is fully trained and aware of the latest legislation to safeguard your compliance. To help you, we've put together some tips to help you start the selection process:
1. Identify and quantify hazardous materials stored on your site
Any chemical that has been supplied to your site would have been issued with a safety data sheet – it's the law. Use these sheets to start classifying any hazardous materials stored and processed on your site. Classifications:
Flammable
Corrosive
Toxic
Oxidiser
Harmful
Dangerous for aquatic life
Explosive
Compressed gas
Health hazard
Alongside classification, you'll also need to quantify the amount you're storing on site – do this for each type of chemical. Then, record the number of different sizes and types of containers that hold your hazardous materials.
2. Identify the application and necessity of your hazardous materials
This is a necessary step to identify the exact purpose of storing hazardous materials on your site. You need to question whether it is really necessary for each material to be housed on your site. And where possible, you should investigate whether you can substitute a hazardous material for a non-hazardous one. Secondary risks can also become apparent when identifying each application. For example, in the case of dispensing a flammable chemical on site the risk of static charge build up will then need to be considered. Application categories include:
Cleaning
Mixing
Dispensing
Fuel

Testing
3. Protect your employees and prove your compliance
The safe handling and storage of hazardous materials is one of the most important tasks for the protection of the health of employees. The employer has many responsibilities and must be aware of the potential hazards different materials contain.
It's critical that you request information on relevant government legislation and regulations for the safe storage of your hazardous materials on site.  The HSE and other government organisations are there to help ensure that environmental health and safety risks are minimised as far as reasonably practicable in industrial organisations, so don't be afraid to ask what you need to do to become compliant.
One of Chemstore's team can talk you through the necessary steps and provide expert advice to ensure you are compliant.
Contact Chemstore
One of our engineers can issue you with a full site proposal with the relevant advice, products and services to enable your site compliance for the safe storage of hazardous materials.
The Chemstore team provides a full after sale service to inspect and maintain all products to ensure the highest standards are upheld.
Request your free site assessment and expert hazardous material storage solutions from an experienced Chemstore engineer today. Call 020 8704 1807 or email us.
Key Tips for Hazard Classification & Identification
Chemstore has over 21 years' experience in area classification & the safe storage of hazardous chemicals in the workplace.
On a daily basis our team receive enquiries and questions from our clients regarding the best practice to mitigate the risks and how to enable compliance for the storage of hazardous goods in their premises.
In this brief article we want to familiarize you with some key tips to identify hazards and know the risks you take when storing hazardous chemicals in your workplace.
According to the HSE guidance document 'HSG71' the most common cause of incidents in the workplace are:
Lack of awareness of the properties of dangerous substances
Lack of training
Inappropriate storage conditions with respect to the hazards of the substance
SDS Sheets
When receiving dangerous substances to your premises the first document you should consult is the SDS (Safety Data Sheet) sheet for each substance.
The SDS sheet will provide key information for:
Identification of the substance
Hazard Identification
Composition/Information on Ingredients
First Aid Measures
Fire Fighting Measures
Accidental Release Measures
Handling & Storage
Exposure Controls/Personal Protection
Physical & Chemical Properties
Stability & Reactivity
Toxicology Information
Ecological Information
Disposal
Transport
Regulatory Information
Other Information
Please ensure that any goods on your premises are supplied with SDS sheets.
CLP Classification System
European Regulation (EC) No 1272/2008 on classification, labeling and packaging of substances and mixtures came into force on 20 January 2009 in all EU Member States, including the U.K. & Ireland It is known by its abbreviated form, 'the CLP Regulation' or just plain 'CLP'.
From the 01st June 2015 compliance with the CLP regulations will be mandatory in all EU member states.
The CLP labelling system was developed to provide striking labeling on goods that works as a clear indication to any personnel who work with dangerous goods in the workplace. The CLP classification labels is something that all your employees should be fully competent with.
Chemstore have provided information below on the notable CLP labels:
1. Explosive

 

2. Compressed Gases

 

3. Flammable Substance

4. Caution

5. Toxic Substance

6. Corrosive Substance 

7. Health Hazard 

8. Oxodizing Substance 

9. Hazardous to the Aquatic Environment

 
For any queries you have on hazard identification and storing dangerous goods in the workplace, contact any member of the Chemstore team today.
Chemical Awareness & Storage
Many companies use hazardous chemicals in their production, manufacturing and maintenance processes.  These companies must be sure to implement control measures to reduce the risk of harm to employees.
First of all, wherever possible the need for the hazardous chemical should be removed from the process.  If this is not practical then it may be possible to source a less hazardous alternative.
At this stage of selecting a new product, a thorough analysis of the material safety data sheet (SDS) is required, now although the quality of SDS has improved greatly in recent years, they may not be 100% accurate.  The manufacturer may have changed the ingredients of a chemical without updating the SDS and of course there is room for human error.
It is advisable to conduct a controlled trial of the product to ensure that it does not introduce any new hazards and does the job that it is supposed to.  This is where your operatives are worth their weight in gold as they alone can comment on the impact this change will have on their day to day productivity.  Safety representatives, manager, engineers should also be consulted to ensure no oversights are made.
Staff who are required to work with, or are exposed to the hazardous chemical should receive training on how to work with the product safely and should know the risk factors involved in doing so.  Emergency response teams must be trained and on standby to deal with any problems as they occur.  Their standard procedures must be supported by emergency response plans which should be updated through regular testing of simulated incident.
What is often forgotten in daily handling is the improper storage of product or material. Hazardous materials are therefore always a current topic for every laboratory. Apart from the proper handling strict storage regulations must be observed. The current storage cabinets provide local storage close to the workplace similar to cabinets shown below.
The final resort in controlling hazardous chemicals is the use of personal protective equipment (PPE) such as protective gloves, goggles and ventilation masks to shield the wearer from the ill effects of any chemicals they are working with.
If you require information on Training, PPE and our full range of EN14470-1 compliant cabinets please do not hesitate to call any of our Sales Team on  020 8 704 1807.
A Brief Guide to Acid Storage
The following acts as a brief reference guide to your acid storage. 
1. Ascertain the nature of the acids:
Inorganic also known as mineral, the most common are Hydrochloric, Sulphuric and Nitric acids.
Organic acids for example, Acetic acid being the most common.
Flammable acid, the only common example is Acetic acid.
2. Acids are frequently supplied as aqueous solutions. For example, the higher the concentration of an acid the greater the potential of fumes, which in turn can be very corrosive.
3. Always refer to the Material Safety Data Sheet which gives directions regarding storage and handling advice. Acids must be separated from other chemical types such as bases.
4. Having established the nature and quantity of acids present, and measured available storage space, you are now in a position to recommend specific asecos cabinets.
Where acids are mildly corrosive the CS Line can be considered, but as they contain some metal components corrosion resistance is limited.
For stronger acids use the SL Line which is highly recommended.
In both cases extraction is recommended. Where segregation is required there are a number of products which may be considered such as the SL, CS or K Lines.
5. Check the client requirements for interior furniture within the cabinet, this depends on the size and number of containers being stored. With respect to storing acids if possible always recommend PE coated shelves or plastic pull out drawers if available, it helps reduce the risk of corrosion to those components.
6. We advise that in all cases cabinets are to be ventilated where acids are stored, acidic fumes are corrosive, so for example non-metallic components are to be used in the extraction hosing. In 2014 asecos are releasing a recirculating UFA extractor for acid fumes as an option.
7. Establish where the cabinet is to be delivered to, either to point of use to behind first door (goods-in).
A Brief Guide To Gas Cylinder Storage
The following article outlines the recommended steps to take when deciding on which type of gas cylinder storage is most suitable for your needs. 
If there is sufficient space externally for secure storage, which is the preferred option of the HSE and BCGA, then our G-OD outdoors range can be considered as an alternative to external cages.
If there is no sufficient external space, then explain that the second option to be considered is a dedicated fire rated and ventilated storeroom to house the minimum number of cylinders needed for any process.
If the customer cannot conform or agree to either of the first two options, we can introduce asecos cabinets which are manufactured according to BS EN 14470-2. Also explain that the cabinets are available in 30 minute or 90 minutes fire resistance and must be ventilated without exception.
Finally, that metal pipe work (stainless steel is the preferred choice due to its low thermal conductivity) or electric cable can be fed through the roof without compromising the fire rating. asecos gas cylinder cabinets are predominantly used for gas cylinders in use and indoors.
For example when very expensive highly purified gases are used, using an asecos cabinet will minimize the chances of the rapid degradation of the gas due to local storage and using shorter pipe lead throughs. This type of gas delivered by pipework from central stores may rapidly degrade the quality of the gas.
Establish the number of cylinders, volumes, sizes and the nature of the gas wishing to be stored. If toxic or flammable gases are being used, recommend 90 minutes fire resistance and a ventilation rate of air change at 120 cabinet volumes per hour with an alarm. With inert and non –toxic gases the customer may consider 30 minutes with reduced extraction rates and no alarm. Note that asphyxiation can still occur.
Check that the customer has extraction facilities available on-site. Remember this is mandatory for BS EN 14470-2 cabinets and it would have to be installed by a separate business if not present.
Check that there is space for any recommended cabinet(s) with the doors fully open. Check that the floor can take the weight of the cabinet including cylinders. All weights and volumes of the cabinets are specified in the asecos catalogue and on the asecos website.
Check that delivery is possible to the point of use. If the customer is considering delivery behind first door or entrance point, advise him how heavy the cabinets are.
IMPORTANT NOTE
Codes of Practice, Guidance Notes and recommendations from UK authorities are generally the minimum requirements for complying with Health and Safety law. An end-user is welcome to use his own methods, but a court will find fault if an accident occurs and these have been established as being insufficient.