IBC SpillSaver
The IBC Spill Saver is a custom-made funnel for IBC 1000 Litre containers.
Produced in 100% polyethene, suitable for most types of acids, chemicals and oils.
When used to collect for example spilt oil, it's absolutely genius.
Securely fits the IBC containers, yet additional fasting straps are available.
Delivered with a strainer grid and an optional full cover lid.
Rubber seals are available as an add on to prevent fumes.
The IBC Spill Saver was introduced to the Norwegian market in 2013 and has received only positive feedback. This new innovative spill containment tool has many benefits. Some examples of applications are shown on the next page.
Note that for flammables, this unit is NOT suitable as it is not anti-static, nor does it have a flame arrestor.
Five steps for safer storage of flammable substances
While there is widespread appreciation of the need to store flammable substances safely warehouse fires are still a regular occurrence and incorrect storage of flammable substances is often found to play a part in these incidences.
When such a fire occurs it is not necessarily the case that there is a complete disregard for safety, but there are some common mistakes that we witness during site visits that put premises and people at increased risk.
One example is the assumption that storing drums containing flammable substances in an off-the-shelf chemical store means they are safe when this may well not be the case. Often standard stores don't offer thermal protection which means once the weather heats up the products inside the store do too at which point they can start to give off a flammable vapour and become hazardous.
This is a very simple example but the reality is that storing flammable substances is rarely straight forward with every site having a bespoke set of factors that need to be taken into consideration. It's therefore useful to consult a hazardous storage expert to ensure that you find the most appropriate solution for your needs but this doesn't mean you can't do some ground work first to help you build a picture of your requirements.
The most useful reference tool you have when looking at how to store a flammable substance safely is the product's Safety Data Sheet (SDS) which will either be provided with the product or be available online – if in doubt contact the manufacturer/supplier. Safety Data Sheets can seem overwhelming at first glance but once you know what you are looking for they are actually quite easy to navigate and the following steps can help.
1. Identify the chemical. First of all, you need to know what you're dealing with so refer to sections 1& 2 of the Safety Data Sheets to identify the substances you want to store and their associated hazards. Once you have this information use section 9 of the Safety Data Sheet to identify the flashpoint of the substance – make sure you are clear about the difference between the flashpoint and the auto-ignition temperature as it is a common mistake to get these confused. A misconception is that the flashpoint of a liquid is the temperature at which it auto ignites – this is incorrect – the temperature at which it auto ignites is called the autoignition temperature. The flashpoint is the temperature at which the liquid gives off flammable vapour. It is not the liquid but the vapour that ignites, so storing a product below this temperature means that no flammable vapour is created. Controlling the temperature also has another benefit that the flammable or hazardous material may work better in process or application when stored at a certain temperature, this temperature can be found in Section 7 of the Safety Data Sheet.
2. Consider compatibility. If you are storing more than one substance, consider whether they are compatible as certain chemicals need to be segregated within a storage facility.  Refer to Section 10 of the Safety Data Sheet to identify incompatible materials.
3. Define the application. Consider how you are using the substances as this will affect the level of risk. Bulk storage of unopened items in sealed containers poses a much lower risk of giving off a flammable vapour than storing products in use where a seal has been broken and lids may not be replaced properly. That said, manufactured sealed containers can cause an issue when stored above the flashpoint and the container is trying to release the vapour because the vapour has nowhere to go which will create pressurised containers that eventually burst or go bang. Remember that you need to think about what will happen to your store if a fire breaks out elsewhere in your facility as well as the risk of a fire breaking out within the store itself.
4. Combat the risks. Think about how you can combat these risks using a hierarchy of hazard controls approach. First, consider whether you could use an alternative substance that poses less of a risk. If this isn't possible think about what you can do to reduce the risks. Firstly think about thermal protection and temperature control – ensuring a product is stored at the correct temperature as per the Safety Data Sheet will help to prevent flammable vapours from occurring – you also need a way of monitoring this temperature – preferably via a remote system that will alert you of any critical changes in temperature. Next consider whether you need an extraction systems to remove vapour in the event that it does get released, once again this needs to include VOC/gas detection monitoring so you receive an alert if there is a rise in vapour so you can address the situation. The next step is to think about fire detection systems to raise the alarm if you have a fire – a double knock system can reduce false alarms so this might be worth considering. Your unit also needs to include the most appropriate fire suppression media which varies depending on the hazard and will be highlighted in Section 5 of the Safety Data Sheet. Frustratingly sometimes the information within these sections can seem contradictory, for example within the Safety Data Sheet for acetone Section 5 recommends using water sprays but not to use water jets – this is why consulting an expert in hazardous storage is advisable.  There is also currently some confusing and contradictory information surrounding the most appropriate media for extinguishing lithium-ion battery fires. This reiterates why it is important to consult a hazardous storage expert with experience in these areas.
5. Have a fire response plan. Anyone storing flammable substances needs to be able to instantly know what's in their building and what you've done to protect your site and the surrounding neighbourhood so ensure you have a detailed inventory that can be accessed quickly in the event of an incident. For example Chemstore's cloud-based hazardous material management software system, Chempli, which can be specified with a unit, includes a QR code that can be featured outside a building or at a security gate enabling the user to instantly access the relevant information in the event of an incident.
Conclusion
This is a very basic guide to some of the factors that need to be taken into account when planning the storage of flammable substances but hopefully it provides enough information to give you an understanding of the needs on your site. If you are in any doubt about your current storage arrangements, or you are in the process if specifying a new system, contact Chemstore Engineering today for a free site survey.
Reusable Face Covering
Chemstore Reusable Face Covering with Valve.
-Each Covering supplied with three PM 2.5 reusable filters.
-CE Certified
-Supplied in Black & Red Colour.
Respirators
FFP2 Valved Disposable Respirator
CE standards: EN 149:2001+A1:2009
FFP2 (N95) rated protection level
Description
-Acupuncture cotton +Filter+PP
-Plastic/Metal nose clip, spandex ear-loop
-Colour: White
-Customized labelling and packaging
-Simple, comfortable cup design shaped to fit user's face
Chempliold
Chemstore Compliance (www.chempli.com) provides the most advanced software platform for the management of an organisation's hazardous material; mitigating risk, lowering costs and guaranteeing compliance.
Using our 27 years of experience we have listened to you, the customer and understand the challenges and risks your job present. Through years of hard work and research, we have developed the compliance management software to enable you with a live, ready for use system guaranteeing compliance on your site.
Chempli will keep you step ahead with the latest safety regulations and expert articles and guides.
Comprising of a suite of modules, it provides your company with a cost-effective point of entry, coupled with a scalable architecture, enabling seamless migration to more advanced management, control and workflow functionality at any future point.
Imagine one centralised platform allowing you to:
Pass Safety & Quality Audits first time and drastically reduce the workload required for preparation
Create a safer workplace for you and your colleagues
Reduce Insurance Premium Costs
Have all critical safety data to hand and remain prepared at all times.
Decreased Risk of accidents & near-miss incidents
Save money by maintaining your chemical and equipment inventories 
Chempli is already being utilised in key industries such as Food Processing, Pharmaceutical, Universities & Medical Devices as some of our keynote clients have been instrumental for Chemstore developing this Compliance Management Software for Hazardous Materials – Chempli.
Chempli is compatible with the complete range of Chemstore storage solutions for flammables, compressed gases, hazardous, temperature-controlled, battery and corrosive material stores. It may also be seamlessly integrated with your organisation's existing chemical storage infrastructure, to provide a central platform for the effective management of hazardous materials enterprise-wide.
For further information and to book a demo today please visit www.chempli.com
You can also download our pdf brochure detailing fully our compliance management software for hazardous materials here:
Free chemical storage surveys
Chemstore, the hazardous materials experts, are currently offering free, no-obligation chemical storage surveys throughout the UK.
Ensure your chemical storage arrangements are compliant with latest health & safety regulations; book a survey with your local chemical storage expert today and get your site in order for 2020.
Questions answered during a chemical storage survey include:
1. Where should chemicals be stored?
2. What is the requirement for storing chemicals?
3. What are the requirements for safe chemical storage?
3. Which hazardous substances should be stored separately?
Call the Chemstore team and book you free survey today. Tel: 020 8704 1807
Lithium Ion Battery Box
Lithium Ion Battery Box for storing and transporting defective or damaged lithium batteries in accordance with P 908.
High-quality special container made of aluminium.
Suitable for up to 3 lithium batteries, each up to 814 Wh.
Equipped with fireproof padding and absorbent material made of textured glass fibres.
Successfully fire tested: flame does not spread to adjacent batteries, temperature at the container surface remains below 100°C.
Tested and approved as hazardous goods packaging in accordance with UN requirements, i. e. can be transported on public roads.
High level of stability due to 3 fully-welded aluminium profile frames.
The Lithium Ion Battery Box is easy to load and unload.
Note
Clearance dimensions approx. 30 mm less than inside dimensions (length and width). Special sizes on request.
Special inserts available on request.
Get in touch with one our sales engineers today by calling, emailing or using our livechat feature.
The trouble with stockpiling
According to the latest report from IHS Markit and the Chartered Institute of Procurement and Supply a number of firms are raising purchasing again as they restart Brexit preparations.
Chemstore UK has seen lots of examples of stockpiling during site surveys this year and we have identified some common safety concerns. Firstly, many companies are stockpiling hazardous chemicals without anywhere to safely store them, so this is something procurement departments need to be aware of before ordering surplus supplies. In addition, where companies are increasing production to meet stockpiling demands there is likely to be an increase in waste; a common situation is for waste to be left on site until a full trailer or lorry load can be filled yet no safe allocation has been made for this volume of hazardous waste. An example of small scale safe segregated waste storage can be seen here).
We urge anyone holding or producing additional hazardous materials to carefully consider their storage arrangements and if in doubt please get in touch. Call 020 8704 1807 or  email sales@chemstore.co.uk
Investing in additional safe storage facilities can be an essential part of contingency planning. Chemstore UK also offers rental options.
Sentence after teenage apprentice overcome by chemicals
An alloy wheel refurbishment company has been sentenced after a 16-year-old apprentice worker was overcome by vapours from a chemical used in the stripping and cleaning of alloy wheels.
South Tyneside Magistrates' Court heard how, on 12 December 2017, the employee of Wheelnut Ltd, entered an area of the company's former premises in Swalwell, Newcastle upon Tyne, known as the "acid room". The employee entered the room to retrieve alloy wheels from one of three barrels of a chemical substance containing Dichloromethane (DCM), Methanol and Hydrofluoric Acid used in the stripping process. He was subsequently found by a colleague slumped unconscious over a barrel.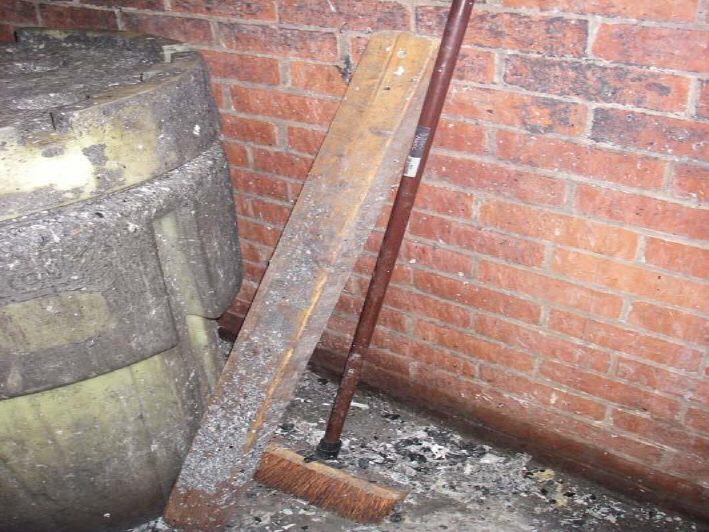 An investigation by the Health and Safety Executive (HSE) found a risk assessment for the chemical wheel stripping process was not suitable or sufficient. Appropriate control measures should have included suitable exhaust ventilation in the room as well as respiratory protective equipment (RPE) for the employees. RPE was provided but it was not maintained in an efficient or effective state. Several parts of it were damaged and the air feed to it from the compressor was not filtered correctly. The investigation found that on this occasion, and previously, the employee was not wearing the RPE when he entered the room. Employees were not provided with suitable and sufficient information, instruction, and training with regards to the risks involved with using the chemicals, particularly the risks involved with using DCM.
Wheelnut Ltd of Whickham Bank, Swalwell, Newcastle upon pleaded guilty to breaching Section 2(1) of the Health and Safety at Work etc Act 1974. The company was fined £32,000 and ordered to pay full costs of £1718.50.
Speaking after the hearing, HSE inspector Joy Craighead said: "A young worker suffered a potentially serious injury. Breathing in DCM vapour can produce narcotic effects and, at high concentrations, unconsciousness and death. In this instance, the boy made a full recovery, but it could have easily resulted in his death."
Commenting on the sentencing, Mike Brodie, Chemstore UK Managing Director said: "A storage arrangement with suitable extraction could have prevented this incident from happening. It is easy to underestimate the dangers of gases and vapours given off by chemicals because they can be odourless and vapourless but their effects can be devastating. Thankfully the apprentice in question made a full recovery but the incident is a reminder of the importance of storing hazardous substances correctly."
If you are unsure of your obligations in this area, contact Chemstore today for a free site assessment.
You may also be interested in our free corrosives storage checklist.
PES Stores – Pesticides
The Chemstore pesticide stores are designed for storing any agrochemical such as plant protection products, animal remedies or biocides. Our new pesticide stores are fully compliant with IASIS (Irish Agricultural Supply Industry Standards) and the HSE Guidance Document – Storing pesticides for farmers and other professional users
You are ensured that the storage for your pesticides are designed and constructed in compliance with relevant statutory requirements and are managed and operated to achieve a high level of protection for workers and for the environment.
The Chemstore PES range can be equipped with required safety & hazard labels for your site on request.
Features:
Fully bunded. Capacities in excess of EPA & EA recommendations
Range of standard sizes as seen below.
Can be manufactured to customer dimensions
Delivery to site fully assembled.
Fitted with forklift channels and roof-fixed crane lifting points to allow for easy unloading and relocation if required.
Fully secure
Fixed or adjustable shelving
Choice of finishes, colour options
Fully ventilated, optional electrical extraction
Single skin or insulated construction
Optional lighting