Reusable Face Covering
Chemstore Reusable Face Covering with Valve.
-Each Covering supplied with three PM 2.5 reusable filters.
-CE Certified
-Supplied in Black & Red Colour.
Respirators
FFP2 Valved Disposable Respirator
CE standards: EN 149:2001+A1:2009
FFP2 (N95) rated protection level
Description
-Acupuncture cotton +Filter+PP
-Plastic/Metal nose clip, spandex ear-loop
-Colour: White
-Customized labelling and packaging
-Simple, comfortable cup design shaped to fit user's face
Opinion: Electric car revolution welcome but safety is paramount
Chemstore UK welcomes the Government's announcement that all new vehicles in Britain will be electric from 2035 and the positive impact this will have on the environment, however when it comes to the technology behind electric vehicles – lithium-ion batteries – it must be remembered that safety is paramount.
Lithium-ion batteries have quickly become ubiquitous powering so many of our every day devices from mobile phones and laptops to power tools. However their risks are still poorly understood.
Lithium-ion batteries are now a common contributor to household fires and they have become a serious hazard in waste and recycling centres as people casually dispose of them within their household waste with little understanding of the dangers they pose. They are also present a serious hazard within industrial premises.
One major issue is that they are vulnerable to thermal runaway, an uncontrollable chain reaction during which the high heat created by the failing cell can develop to the next cell, causing it to also become thermally unstable. Once ignited, the batteries can also emit toxic fumes and battery cells can reignite hours after an initial fire has been extinguished making them extremely unpredictable for the fire service to deal with.
Why lithium-ion battery fires start is unclear but manufacturing defects and contamination, damage in transit and over charging are all thought to play a role. If they are not appropriately segregated there is also the risk of them being affected by a fire that has started elsewhere which can have devastating consequences.
More questions than answers
The reality is that there are more questions than answers at the moment about lithium-ion battery safety and even the fire service is learning as we go. Research is underway which will hopefully provide some clarity but it is prudent to manage lithium-ion batteries with the utmost caution until we fully understand their risks, handling them with care and keeping them in specialised safe storage facilities, such as Chemstore's Electrovault range, segregated from other hazards.
As trusted specialists in hazardous materials, at Chemstore UK, we are already working with leaders in the automotive and motorsports industry to ensure they are handling and storing their lithium-ion batteries in line with best practice as it is currently understood.
However whether you are an electric car manufacturer handling and storing vast quantities of lithium-ion batteries, or just dealing with this technology in small amounts, it is important not to overlook this omnipresent risk.
Chemstore UK offers a range of indoor and outdoor handling and storage solutions for lithium-ion batteries as well as providing bespoke storage options. Contact us today on 020 8704 1807 to find out more.
Chempliold
Chemstore Compliance (www.chempli.com) provides the most advanced software platform for the management of an organisation's hazardous material; mitigating risk, lowering costs and guaranteeing compliance.
Using our 27 years of experience we have listened to you, the customer and understand the challenges and risks your job present. Through years of hard work and research, we have developed the compliance management software to enable you with a live, ready for use system guaranteeing compliance on your site.
Chempli will keep you step ahead with the latest safety regulations and expert articles and guides.
Comprising of a suite of modules, it provides your company with a cost-effective point of entry, coupled with a scalable architecture, enabling seamless migration to more advanced management, control and workflow functionality at any future point.
Imagine one centralised platform allowing you to:
Pass Safety & Quality Audits first time and drastically reduce the workload required for preparation
Create a safer workplace for you and your colleagues
Reduce Insurance Premium Costs
Have all critical safety data to hand and remain prepared at all times.
Decreased Risk of accidents & near-miss incidents
Save money by maintaining your chemical and equipment inventories 
Chempli is already being utilised in key industries such as Food Processing, Pharmaceutical, Universities & Medical Devices as some of our keynote clients have been instrumental for Chemstore developing this Compliance Management Software for Hazardous Materials – Chempli.
Chempli is compatible with the complete range of Chemstore storage solutions for flammables, compressed gases, hazardous, temperature-controlled, battery and corrosive material stores. It may also be seamlessly integrated with your organisation's existing chemical storage infrastructure, to provide a central platform for the effective management of hazardous materials enterprise-wide.
For further information and to book a demo today please visit www.chempli.com
You can also download our pdf brochure detailing fully our compliance management software for hazardous materials here:
Case Study: Storing Acetone
When professional nail product distributor, Pure Nails, was looking for a storage solution for safely storing Acetone within their factory before it was forwarded for onward distribution, they turned to Chemstore UK.
As Acetone is highly flammable it needed to be housed in a 90minute fire rated structure but it also needed to be easily accessible so orders could be fulfilled quickly and efficiently.
Following a site visit from Account Manager, Stephen Mansell, Chemstore UK proposed a bespoke Firevault unit which measured 14m long and, rather than housing standard pallet racking, incorporated front and back access for easy loading and unloading of boxes.
Stephen Mansell explains: "The Acetone remains within its manufactured sealed containers during the time that Pure Nails handles it so it is unlikely to be the source of a fire, but due to Acetone's highly flammable nature, it was essential to keep it protected from potential fires started elsewhere within the premises.  The bespoke Firevault was the perfect solution because it ensured when storing Acetone the product could be protected from fire without hindering the company's operations."
Nathan Palmer, Head of Operations, Pure Nails comments: "From their first site visit through to the design and approval of the Firevault to it arriving and being installed in great condition onsite, we were very impressed with both the product and service provided by Chemstore UK.
"Getting the unit into the factory was really impressive. I would definitely recommend using them."
Fire-proof lithium-ion battery box
Chemstore, the hazardous materials experts, have added a fire-proof case for the safe storage and transport of lithium-ion batteries to their lithium-ion battery storage range.
The Zarges K470 battery box is a high quality aluminium container which is suitable for up to 3 lithium ion batteries of 814 Wh. The box is equipped with fireproof padding and absorbent material and has been successfully fire tested to ensure flame does not spread to adjacent batteries.
The box was originally designed for transporting damaged lithium-ion batteries and is tested and approved as hazardous goods packaging in accordance with UN requirements therefore it can be transported on public roads.
Chemstore already offers an outdoor storage option for lithium-ion batteries (the Electrovault) and an indoor storage option (the ION-LINE) so the Zarges K470 battery box is the perfect addition to the range.
Chemstore Managing Director, Mike Brodie comments: "Lithium-ion battery storage is a complex area with best practice guidance still evolving and misinformation unfortunately quite commonplace. Chemstore Engineering has fast become one of the leading product specialists in this area so we are delighted to further broaden our lithium-ion battery storage range with the addition of the Zarges battery box."
Watch this video to find out more.
Contact Chemstore Engineering on 020 8704 1807 or email  sales@chemstore.co.uk to find out more about our range of lithium-ion battery storage products and to arrange a free site survey.
Chemstore UK welcomes John Sexton to northern sales team
Chemstore UK is delighted to welcome John Sexton to the northern sales team bringing with him a wealth of experience in the hazardous storage sector. 
Commenting on the appointment, Chemstore UK Managing Director, Mike Brodie says: "As manufacturing techniques rapidly advance hazardous materials storage is becoming ever more complex so companies are increasingly looking to experts such as Chemstore UK for guidance and support rather than just choosing off-the-shelf solutions.
"Consequently Chemstore UK is experiencing a period of rapid growth so we are pleased to welcome John to the team at this busy time.
John adds: "Chemstore UK has an exceptional product offering and a team of people who are very passionate about what they do. I am excited to join the company and look forward to playing my part in its growth."
Chemstore's got lithium-ion battery storage covered
Chemstore, the hazardous materials experts, have added the ION-LINE, a 90 minute fire rated lithium-ion storage and charging cabinet for the indoor storage of lithium-ion batteries, to its lithium-ion battery storage offering.
When charging lithium-ion batteries heat can be generated, if this heat output is too high, a fire may occur, for example if the lithium-ion battery, charger or the cable is defective. Another major risk factor is thermal runaway of lithium-ion batteries
The ION-LINE allows charging of batteries overnight in the safe knowledge they are protected by a 90minute fire rated cabinet that has smoke detection and fire suppression built in.
"Standard fire-rated units just won't do when it comes to lithium-ion battery storage which is why it is important to consult a specialist such as Chemstore who are fast becoming the go-to experts on this issue."
The ION-LINE cabinet also features a fire suppression system and smoke detectors.
Chemstore Managing Director Mike Brodie comments: "The addition of the ION-LINE to our range means that we now have lithium-ion battery storage covered with an outdoor (Electrovault) and indoor offering as well as the option to create bespoke storage solutions.
"Standard fire-rated units just won't do when it comes to lithium-ion battery storage which is why it is important to consult a specialist such as Chemstore who are fast becoming the go-to experts on this issue."
ION-LINE features include:
Dimensions: External 1,196W x 616D x 1,968H (mm)
Cabinet Weight: 424Kg
Loading: 180Kg evenly distributed load per shelf.
Storage: 6 No.  shelves and 1 no. bottom collecting sump .
Spillage Collection: 33 L Leak tested, welded steel, liquid collection sump in base.
Access:                       Twin hinged wing doors
Finish:                         Chemical resistant powder coat finish (Blue)
Sentence after teenage apprentice overcome by chemicals
An alloy wheel refurbishment company has been sentenced after a 16-year-old apprentice worker was overcome by vapours from a chemical used in the stripping and cleaning of alloy wheels.
South Tyneside Magistrates' Court heard how, on 12 December 2017, the employee of Wheelnut Ltd, entered an area of the company's former premises in Swalwell, Newcastle upon Tyne, known as the "acid room". The employee entered the room to retrieve alloy wheels from one of three barrels of a chemical substance containing Dichloromethane (DCM), Methanol and Hydrofluoric Acid used in the stripping process. He was subsequently found by a colleague slumped unconscious over a barrel.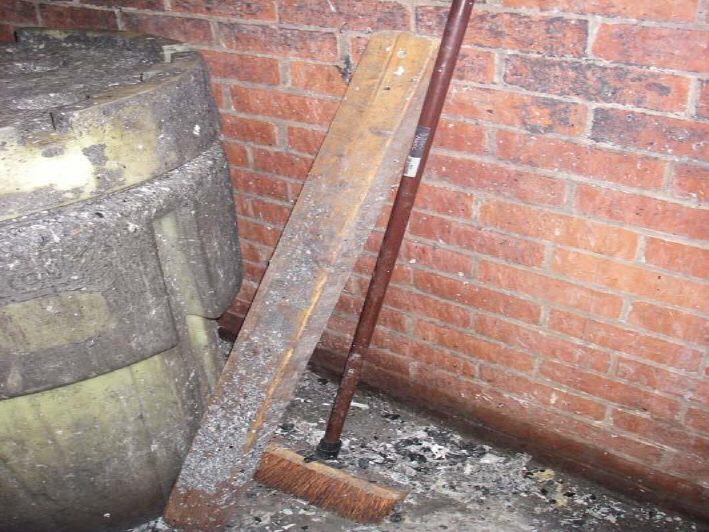 An investigation by the Health and Safety Executive (HSE) found a risk assessment for the chemical wheel stripping process was not suitable or sufficient. Appropriate control measures should have included suitable exhaust ventilation in the room as well as respiratory protective equipment (RPE) for the employees. RPE was provided but it was not maintained in an efficient or effective state. Several parts of it were damaged and the air feed to it from the compressor was not filtered correctly. The investigation found that on this occasion, and previously, the employee was not wearing the RPE when he entered the room. Employees were not provided with suitable and sufficient information, instruction, and training with regards to the risks involved with using the chemicals, particularly the risks involved with using DCM.
Wheelnut Ltd of Whickham Bank, Swalwell, Newcastle upon pleaded guilty to breaching Section 2(1) of the Health and Safety at Work etc Act 1974. The company was fined £32,000 and ordered to pay full costs of £1718.50.
Speaking after the hearing, HSE inspector Joy Craighead said: "A young worker suffered a potentially serious injury. Breathing in DCM vapour can produce narcotic effects and, at high concentrations, unconsciousness and death. In this instance, the boy made a full recovery, but it could have easily resulted in his death."
Commenting on the sentencing, Mike Brodie, Chemstore UK Managing Director said: "A storage arrangement with suitable extraction could have prevented this incident from happening. It is easy to underestimate the dangers of gases and vapours given off by chemicals because they can be odourless and vapourless but their effects can be devastating. Thankfully the apprentice in question made a full recovery but the incident is a reminder of the importance of storing hazardous substances correctly."
If you are unsure of your obligations in this area, contact Chemstore today for a free site assessment.
You may also be interested in our free corrosives storage checklist.
V Line V90.196.081.VDAC 90 Minute Fire Rated Cabinet
The asecos range of Fire Rated Cabinet are a renowned standard of quality employed throughout a full range of industries in the UK.
90 minutes fire-resistant V90
Fire Rated Cabinet Features:
Robust construction and longevity: stable, high quality and scratch proof cabinet body with powder-coated surface
Electronic opening and closing: the vertical drawer opens and closes at the push of a button
Perfect access: the vertical drawer provides an overview and simple access to the stored containers
Always closed: standard serial closing after approx. 60 seconds with visual and acoustic signal for drawer closure
No unauthorised use: vertical drawer lockable with cylinder lock (integration in an existing locking system possible) and locking state indicator (red/green)
Easy alignment: adjusting aids to compensate for uneven floor
Supply and exhaust ventilation: integrated air ducts ready for connection (DN 75) to an exhaust system
Dimensions : External 819W x 863D x 1,966H (mm)
Cabinet Weight: 344 Kg
Loading: 50 Kg evenly distributed load per shelf.
Storage:  5 No. shelves and 1 no. bottom collecting sump with perforated insert.
Spillage Collection: 12.5 L Leak tested, welded steel, liquid collection sump in base.
Access: 2 No. Electric opening slide-out doors
Finish: Chemical resistant powder coat finish